Back To Menu
2-Meat BBQ Plate
Your Choice of 2 Meats and 2 Sides
Sides:
Beans
Cole Slaw
Potato Salad
1/2 Order Onion Rings
1/2 Order Fried Zucchini
Mac & Cheese
Baked Potato
Chili Cheese Fries
+$2.50
Chili Cheese Tots
+$2.50
****BBQ TWO MEAT PLATE (CHOOSE 2)****:
Ribs
Sliced Beef
Chopped Beef
Sausage
Turkey Breast
Ham
Have you tried this item? Pop it!
Help other diners know what to expect by sharing your experience.
Photo Gallery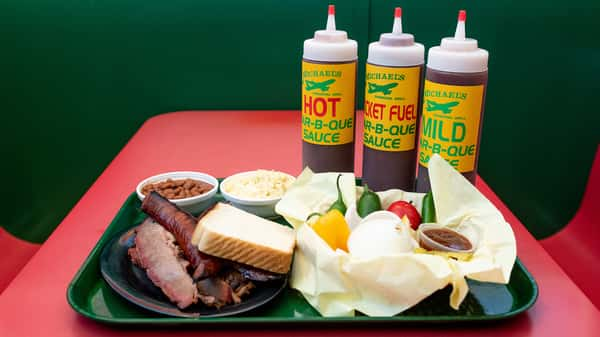 Back To Menu
2-Meat BBQ Plate
Your Choice of 2 Meats and 2 Sides
Sides:
Beans
Cole Slaw
Potato Salad
1/2 Order Onion Rings
1/2 Order Fried Zucchini
Mac & Cheese
Baked Potato
Chili Cheese Fries
+$2.50
Chili Cheese Tots
+$2.50
****BBQ TWO MEAT PLATE (CHOOSE 2)****:
Ribs
Sliced Beef
Chopped Beef
Sausage
Turkey Breast
Ham
Back To Menu