Back To Menu
Lunch Specials (online only)
$12.50
Chicken Caesar Salad-Lunch Special
Romaine Lettuce, Parmesan Cheese, Croutons, and Caesar dressing or any Popular dressing. Lunch special includes a 20oz Soft Drink
****SALAD DRESSING****:
Ranch
Blue Cheese
1000 Island
Italian
Creamy Ceasar
Fat Free Raspberry Vinaigrette
Fat Free Ranch
Honey Mustard
Extra Ranch
+$1.55
Salsa (1/2 pint)
+$2.75
Customer will make salad// do not make salad
Have you tried this item? Pop it!
Help other diners know what to expect by sharing your experience.
1 person has popped this item
Photo Gallery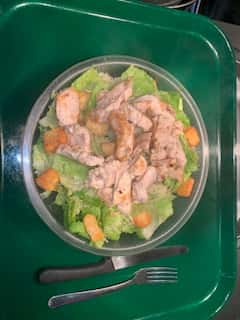 Back To Menu
Lunch Specials (online only)
$12.50
Chicken Caesar Salad-Lunch Special
Romaine Lettuce, Parmesan Cheese, Croutons, and Caesar dressing or any Popular dressing. Lunch special includes a 20oz Soft Drink
****SALAD DRESSING****:
Ranch
Blue Cheese
1000 Island
Italian
Creamy Ceasar
Fat Free Raspberry Vinaigrette
Fat Free Ranch
Honey Mustard
Extra Ranch
+$1.55
Salsa (1/2 pint)
+$2.75
Customer will make salad// do not make salad
Back To Menu