Back To Menu
Chicken Strip Basket
Sides (Choose 1):
Fries
Tots
Onion Rings (1/2 order)
Fried Zucchini (1/2 order)
Baked Potato
Mac & Cheese
Salad Dressing:
Ranch
Blue Cheese
1000 Island
Italian
Creamy Ceasar
Fat Free Raspberry Vinaigrette
Fat Free Ranch
Honey Mustard
Have you tried this item? Pop it!
Help other diners know what to expect by sharing your experience.
Photo Gallery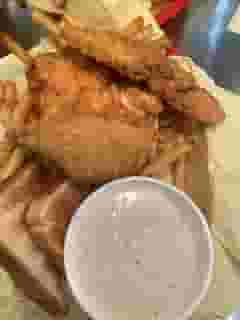 Back To Menu
Chicken Strip Basket
Sides (Choose 1):
Fries
Tots
Onion Rings (1/2 order)
Fried Zucchini (1/2 order)
Baked Potato
Mac & Cheese
Salad Dressing:
Ranch
Blue Cheese
1000 Island
Italian
Creamy Ceasar
Fat Free Raspberry Vinaigrette
Fat Free Ranch
Honey Mustard
  Back To Menu