Back To Menu
Jr Steak Fingers
(3 Pieces) "Little Toe"
Combo Side (Choose 1):
Fries
Tots
Mac & Cheese
Chips
Combo Drink Choices (Choose 1):
Coke Classic
Sprite
Dr Pepper
UnSweet Tea
Sweet Tea
1/2 Sweet & 1/2 UnSweet Tea
Diet Coke
Sprite Zero
Root Beer
Diet Dr Pepper
Orange Soda
Blue PowerAde
Red Soda
Pink Lemonade
Minute Maid Lemonade
Coke Zero
Cherry Coke
Bottled Water
Milk
Have you tried this item? Pop it!
Help other diners know what to expect by sharing your experience.
Photo Gallery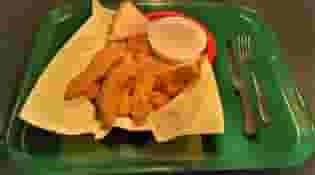 Back To Menu
Jr Steak Fingers
(3 Pieces) "Little Toe"
Combo Side (Choose 1):
Fries
Tots
Mac & Cheese
Chips
Combo Drink Choices (Choose 1):
Coke Classic
Sprite
Dr Pepper
UnSweet Tea
Sweet Tea
1/2 Sweet & 1/2 UnSweet Tea
Diet Coke
Sprite Zero
Root Beer
Diet Dr Pepper
Orange Soda
Blue PowerAde
Red Soda
Pink Lemonade
Minute Maid Lemonade
Coke Zero
Cherry Coke
Bottled Water
Milk
  Back To Menu